Dirt Bike Rental Dubai – Honda CRF 150 R 2016
Dirt bike Rental Dubai:We offer a Honda CRF 150 R 2016 for rental at DMX Club Dubai. You can hire this dirt bike for 1,5 hrs or 3 hrs from MX – Academy Dubai
( For intermediate and advanced riders only ). Booking is required through Offroad.ae. Dirt Bike Rental and usage on DMX Property only.
If you need gear its possible to rent it for 250 Dhs at MX – Academy Dubai. There is also a track fee 50 Dhs / 100 Dhs ( week / weekend ). Payable at MX – Academy Dubai HQ.
This bike suits for youngsters and women with a height up to 1,60 m!
Prices:
Track – 50 Dhs/ 100 Dhs ( week / weekend )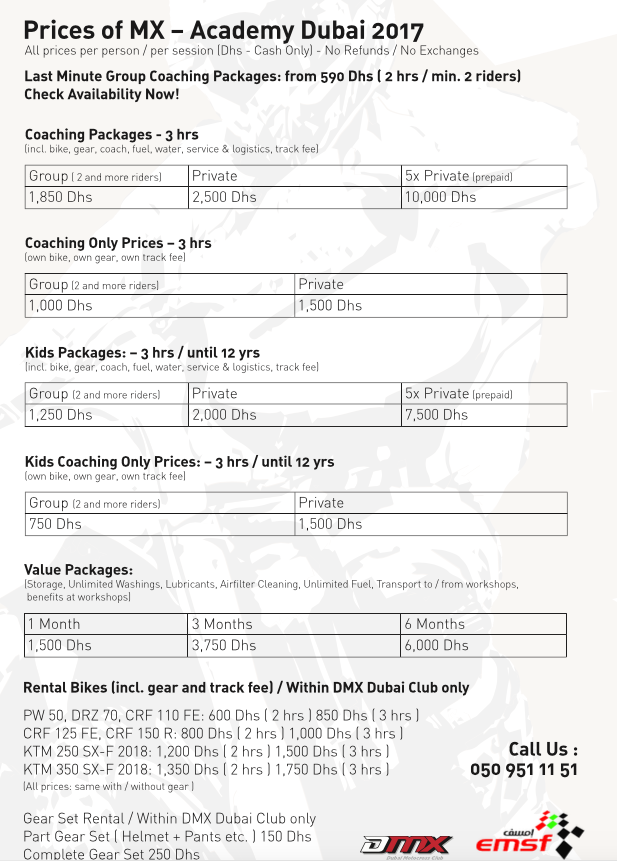 PICKED UP FOR YOU
PRODUCTS IN THE SAME CATEGORY
MX - Academy Dubai: DMX Club Dubai - Oppsoite of Jebel Ali Beach Hotel