Desert Training Dubai: For Advanced Riders Only
Desert Training Dubai: MX – Academy Dubai offers a desert training for the advanced riders after visiting Beginners Course and Intermediate course at MX – Academy Dubai.
This desert training offers all features of elements which has been trained before, but on a very high level for all riders. It is recommend to visit element courses before to enjoy the beauty of the UAE Desert totally!
The UAE Desert is quite hard to ride because of its loose sand and large dunes.
Features:
Bike, Coach, Gear, Drinks, Logistics, Service, 3 hrs riding and teaching
Bikes:  KTM 250 SX – F , KTM 350 SX – F newest models
Coaches: Joshua Brodalka, Mohammed Jaffar, Mohammed Balooshi, Daniel Hutchinson, Dale Jullien, Ben Menzies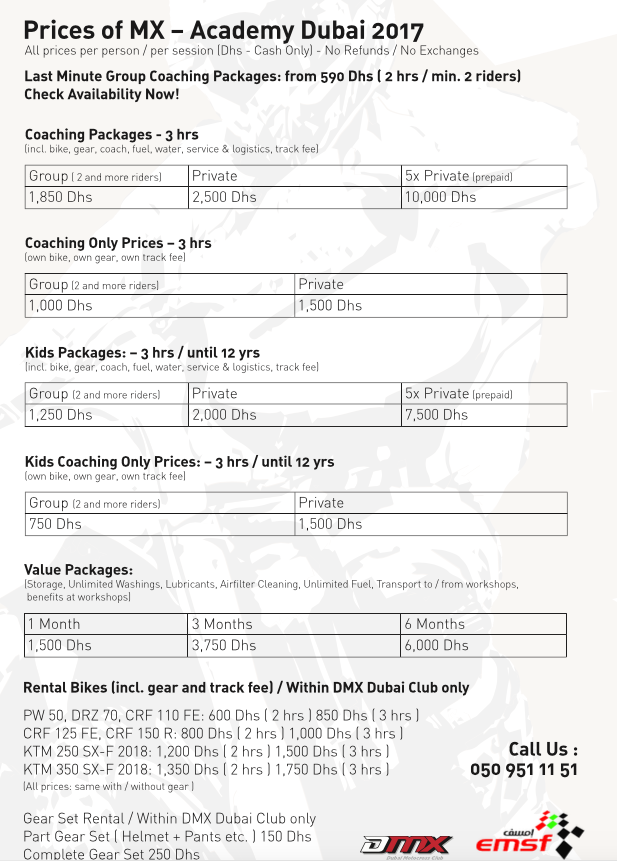 Desert Training Dubai: MX – Academy Desert Experience
Picture: @littleshao / Littleshao www.littleshao.com
PICKED UP FOR YOU
PRODUCTS IN THE SAME CATEGORY
MX - ACADEMY DUBAI: UAE Desert Dubai / Sharjah